Preview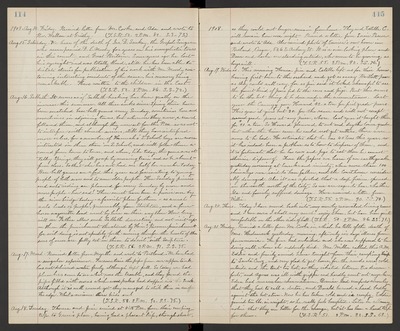 Transcription
Page 114
1908. Aug. 14. Friday. Received letter from Mr. Cooke and Ada and wrote to Rev. Wallace at Gridley. (T.S.R. 52. 2 P.M. 82. S.S. 73.)
Aug. 15. Saturday. We hear of the death of Ira D. Sankey, the Gospel Singer who accompanied D.L. Moody for years on his evangelistic tours in this country and Great Britain. Some years ago he lost his eyesight and was totally blind, still he has been able to dictate stories for publication of his work with Mr. Moody containing interesting incidents of the same, his memory being remarkable. Have written to the children in the East. (T.S.R. 52. 2 P.M. 86. S.S. 72.)
Aug. 16. Sabbath. It seems as if Sabbath-breaking has been greatly on the increase this summer. All these weeks since spring there have been matched base-ball games every Sunday, sometimes here and sometimes in adjoining towns, but wherever they were, a crowd followed them, and although they were set for the P.M. so as not to interfere with church services, still they have interfered more or less, for a number of Hannah's S. School boys are more interested in them than in S. School, and will follow them around from town to town, and when, like today, the game was at Valley Springs, they will go up by morning train and so be absent from class. So that she has not had one-half her number today. Base-ball games are a fad this year and fascinating to young people of both sexes and to some older people. Then Sunday picnics and auto riding are planned for every Sunday by more and more people- how sad! There must have been a picnic over by the river bridge today - a favorite place for them - as several auto loads of people, presumably from Stockton, and a four- horse wagonette load went by here on their way there. How long will our Father allow such Sabbath desecration and not visit upon them the punishment threatened by Him? "Because punishment for evil-doing is not speedily forth-coming therefore the hearts of the sons of men are fully set in them to do evil", saith Scripture. (T.S.R. 56. 2 P.M. 91. S.S. 75.)
Aug. 17. Mond. Received letter from Myrtle and wrote to Portland. We have had a singular experience. For sometime the pipe from our supper tank has not delivered water freely although kept full. So today we had plumbers come to see what was the trouble, and they found the pipe filled with acorns which wood peckers had dropped into the tank. Although it is well covered yet they managed to stick them in under the edge. What a nuisance those birds are! (T.S.R. 58. 2 P.M. 92. S.S. 75.)
Aug. 18. Tuesday. Theresa and Jim arrived at 4:15 P.M. from their camping trip to Greve's place, having had a pleasant trip, though short,
Page 115
1908. as they could not longer remain from home. They and Estelle C. will remain here over night. Received a letter from Susie Pascoe and wrote to Ada. Also received photo of Eunice's new home in Portland, Oregon, 526 E. Ankeny St. It is a nice looking place and Dean and Locke are standing outside, who seem to be growing, as boys will. (T.S.R. 55. 2 P.M. 92. S.S. 76.)
Aug. 19. Wednes. This morning Theresa, Jim and Estelle left us for their homes, having first been to the orchard and got as many Bartlett pears as they could well carry, for as Jim said "it looked shameful to see the finest kind of pears fed to the cows and pigs". But this seems to be the best thing to be done under the circumstances. Last year the Cannery gave Howard $42. a ton for first grade pears. This year it gives but $20. for the same and will not accept second grade pears at any piece, where last year it bought them for $21. a ton. So Howard planned to cut and dry the lower grades but when the time came he could not get cutters, there were none to be had. He estimates that he has 40 tons this year, so it has indeed been a problem as to how to dispose of them, and it is fortunate that he has cows and pigs to eat those he cannot otherwise dispose of. From the papers we learn of an earthquake yesterday morning at Eureka and vicinity, when more than 100 chimneys were said to have fallen, and the Courthouse considerably damaged. Also it was reported that a deep fissure opened in the earth north of the City. So we are eager to hear whether Ida and family suffered damage. Have received a letter from Willie. (T.S.R. 55. 2 P.M. 90. S.S. 74.)
Aug. 20. Thurs. Today I have moved back into my newly renovated living rooms and I am sure I shall very much enjoy them, but have been quite comfortable on the other side of hall. (T.S.R. 50. 2 P.M. 86. S.S. 71.)
Aug. 21. Friday. Received a letter from Mr. Cooke in which he tells of the death of Mrs. Hidemark yesterday morning, after only six days illness from pneumonia - The fever had subsided and she was supposed to be doing well when she suddenly died. Mrs. Miller called this A.M. Eddie and family arrived home tonight from their camping trip to Santa Cruz, and very glad to get home, for the winds were cold outside and the tent too hot, so they in vibrated between two discomforts, and Agnes was ill with grippe and hardly went out anywhere. Edna had muscular rheumatism, Bernice had croup so severely that they had to call a doctor, and Donald burned a hand badly against the hot stove. Now he has taken cold and is croupy. Eddie gained ten lbs. in weight, so he really feels benefited. Later on all may notice that they are better for the change, but it has been a hard trip for them. (T.S.R. 51. 2 P.M. 82. S.S. 68.)
Date Original
January 1907
Circa Date
circa 1907-1911
Source
Original dimensions: 23 x 37 cm.
Resource Identifier
Locke_Diary_1907-1911_Image_061.tif
Publisher
Holt-Atherton Special Collections, University of the Pacific Library
Keywords
Delia Locke, diaries, women, diarist, California, Locke-Hammond Family Papers, Lockeford, CA, Dean Jewett Locke, rural life, rural California, 19th Century, church, temperance organizations, Mokelumne River Ladies' Sewing Circle, temperature recordings, journal
COinS