Preview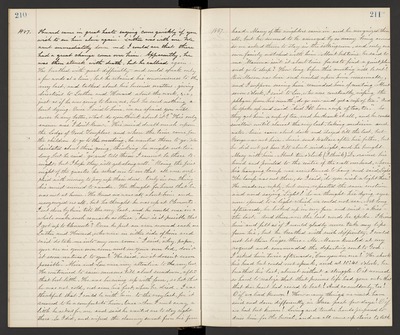 Transcription
Page 210
1887. Howard came in great haste saying "come quickly if you wish to see him alive again." Luther was with me. We went immediately down and I could see that there had a great change come over him. Apparently, he was then struck with death, but he rallied again. He breathed with great difficulty and could speak only a few words at a time, but he retained his consciousness to the very last, and talked about his business matters, giving directions to Luther and Howard about the work, &.c, just as if he was going to leave us, but he said nothing about dying. Once I said to him, "we are afraid you will never be any better, what do you think about it?" His only answer was "I don't know". His mind dwelt much upon the Lodge of Good Templars and when the time came for the children to go to the meeting, he wanted them to go. We hesitated about their going, thinking he might not live long, but he said, "go, and tell them I cannot be there tonight, but I hope they will get along well". Being the first night of the quarter he asked me to see that all were supplied with money to pay up their dues. Only in one thing his mind seemed to wander. He thought for hours that he was not at home. He knew we were all about him and recognized us all, but he thought he was up at Clements. I sat close by him till the very last, and he would once in a while make such remarks as these, "how is it possible that I got up to Clements?" Once he put an arm around each one Luther and Howard, who were on either side of him and said "do take me into my own room". I said, "why, papa, you are in your own room and on your own bed, don't it seem natural to you?" He said, "no it doesn't seem possible". Alice and Lou were very attentive to the very last. He continued to raise mucous till about sundown, after that but little. He was burning up with fever, so hot that he was not cold, not even his feet, when he died. I was thankful that I could be with him to the very last, for it seemed to be a comfort to him. Once when I went away a little he asked for me and said he wanted me to stay right there. So I did, and wiped the clammy sweat from his forehead.
Page 211
1887. Many of the neighbors came in and he recognized them all, but he seemed to be annoyed by so many being around so we asked them to stay in the sittingroom, and only our own family watched with him. About bedtime he said to me, "Mamma isn't it about time for us to find a quiet place and go to sleep? How long before this meeting will be out?" Rev. Mason was here and waited upon him occasionally, and I suppose seeing him reminded him of meeting. About seven o'clock, I said to Lou, who was constantly wiping the phlegm from his mouth, "do go now and get a cup of tea". And he spoke up and said "And I'll have a cup of tea, too". So they got him a cup of tea, and he drank it all, and he could swallow until almost the very last, taking medicine and water. Susie came about dark and stayed till the last, but George was not here. Susie sent Wallace after his father, but he did not get here till about midnight, and he brought Mary with him. About ten o'clock (I think) Dr. raised his hand and pointed to the centre of the wall overhead, where his hanging lamp was accustomed to hang and said, "Light" The lamp was not there, so I said, "do you wish a light there?" He made no reply, but soon repeated the same motion and word saying, "Light!" So we thought his dying eyes were opened to a light which we could not see. Not long afterwards, he looked up in my face and said - "a kiss - the last". And these were the last words he spoke. I kissed him and felt as if I would gladly never take my lips from his, but he breathed with such difficulty, I could not let them linger there. Mr. Mason kneeled at my request and commended the departing soul to God. I asked him twice afterwards, "Can you see me?" He shook his head but could not speak, and at 10:40 o'clock, he breathed his last, almost without a struggle. O it seemed so hard to realize that that precious life had gone out - that that dear heart had ceased to beat! And so suddenly, too! O if we had known! How many things we would have said and done differently in these past few days! O if we had but known! Loving and tender hands prepared to dress him for the burial, and we all came upstairs to talk
Date Original
January 1885
Circa Date
circa 1885-1891
Source
Original dimensions: 21 x 34 cm.
Resource Identifier
Locke_Diary_1885-1891_Image_109.tif
Publisher
Holt-Atherton Special Collections, University of the Pacific Library
Keywords
Delia Locke, diaries, women, diarist, California, Locke-Hammond Family Papers, Lockeford, CA, Dean Jewett Locke, rural life, rural California, 19th Century, church, temperance organizations, Mokelumne River Ladies' Sewing Circle, temperature recordings, journal
COinS