Preview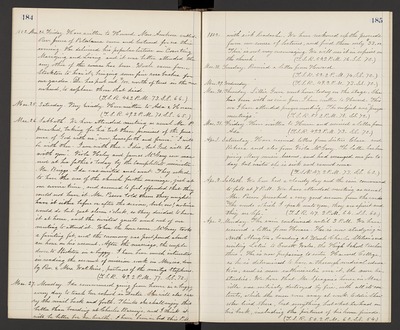 Transcription
Page 184
1882. Mar. 24. Friday. Have written to Howard. Mrs. Ambrose called. Rev. Jones of Petaluma came and lectured for us this evening. He delivered his popular lecture on "Counting, Marrying and Living" and it was better attended than any other of the course has been. Uncle came from Stockton to hear it, bringing some fine rose bushes for our garden. Dr. has put out $100. worth of trees in the new orchard, to replace those that died. (T.S.R. 44. 2 P.M. 73. S.S. 66.)
Mar. 25. Saturday. Very windy. Have written to Ada & Horace. (T.S.R. 49. 2 P.M. 70. S.S. 65.)
Mar. 26. Sabbath. We have attended meeting as usual. Mr. P. preached, taking for his text their promises of the presence of God with us, "now, henceforth and forever." "I will be with thee - I am with thee - I die, but God will be with you." Viola Haley and James McGary were married at her father's today by the Campbellite minister - Mr. Briggs. Ida was invited and went. They asked to have the use of the church for the marriage, just at our service time, and seemed to feel offended that they could not have it. Mr. Pascoe told them they might have it either before or after the service, but no! no time would do but just eleven o'clock, so they decided to have it at home, and the invited guests went out of our meeting to attend it. When the hour came, McGary took a fainting fit, and the ceremony was postponed about an hour on his account. After the marriage, the couple drove to Stockton in a buggy. I have been much interested in reading the account of mission work in Mexico, done by Rev. & Mrs. Watkins, partners of the martyr Stephens. (T.S.R. 49. 2 P.M. 77. S.S. 72.)
Mar. 27. Monday. Ida commenced going from home in a buggy every day to teach her school in Dexter. She will also carry the mail back and forth. Think she shall enjoy this better than boarding at Charles Barney's, and I think it will be better for her health. I have been in bed this P.M.
Page 185
1882. with sick headache. We have reckoned up the proceeds from our course of lectures, and find them only $33.00. This is not very encouraging. We will use it in repairs on the church. (T.S.R. 54. 2 P.M. 76. S.S. 70.)
Mar. 28. Tuesday. Received a letter from Howard. (T.S.R. 52. 2 P.M. 74. S.S. 70.)
Mar. 29. Wednesday. (T.S.R. 49. 2 P.M. 73. S.S. 70.)
Mar. 30. Thursday. Lillie Greve went home today on the stage. She has been with us since Jan. I have written to Howard. This eve I have attended prayermeeting. The subject was "prayermeetings." (T.S.R. 51. 2 P.M. 78. S.S. 72.)
Mar. 31. Friday. Have written to Horace and received a letter from Ada. (T.S.R. 49. 2 P.M. 73. S.S. 70.)
Apr. 1. Saturday. Have received letters from Sisters Clara and Rebecca and also from Viola McGary. The latter has been giving Mary music lessons, and had arranged one for today but writes she is sick and cannot come. (T.S.R. 47. 2 P.M. 73. S.S. 60.)
Apr. 2. Sabbath. We have had a cloudy day and the rain commenced to fall at 7 P.M. We have attended meeting as usual. Mr. Pascoe preached a very good sermon from the words "The words which I speak unto you, they are spirit and they are life." (T.S.R. 47. 2 P.M. 64. S.S. 60.)
Apr. 3. Monday. The rain continued until 3 P.M. We have received a letter from Horace. He is now studying in North Abington, boarding at Uncle Charles Stetson's and reciting Latin to Everett Wales, the High School teacher there. He is now preparing to enter Harvard College, as he is determined to have a thorough medical education, and is more enthusiastic over it, the more he studies. We hear that Mr. Sprague's house in Macville was entirely destroyed by fire, with all its contents, while the men were away at work. Eddie Shaw who lived there, lost everything but what he had on his back, including the pictures of his home friends. (T.S.R. 50. 2 P.M. 60. S.S. 54.)
Date Original
January 1880
Circa Date
circa 1880-1884
Source
Original dimensions: 22 x 34 cm.
Resource Identifier
Locke_Diary_1880-1884_Image_097.tif
Publisher
Holt-Atherton Special Collections, University of the Pacific Library
Keywords
Delia Locke, diaries, women, diarist, California, Locke-Hammond Family Papers, Lockeford, CA, Dean Jewett Locke, rural life, rural California, 19th Century, church, temperance organizations, Mokelumne River Ladies' Sewing Circle, temperature recordings, journal
COinS